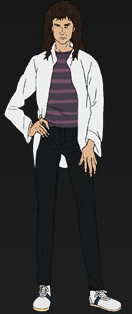 Takita Shigeo (滝田 繁男) is an Entrepreneur. He is a long-haired man dressed in a white shirt. He is quickly defeated in a Deal with Shindo Tomo.
Bria is Shigeo's
Asset
. It takes the form of a horse head with multiple human arms, curved horns and bird legs. Its
Flation
, "Trojan Horse", makes its arms grow out of the enemy
Entrepreneur
, draining his
Midas Money
. Among its other meanings, a "Trojan Horse" is also an advertising offer that seems to be a good deal, but actually is not.
Shigeo's appearance and Bria's name are references to Brian May, a member of the rockband Queen. This is similar to Shimodaira Ryuuji's reference to Freddie Mercury from the same episode.