Nagayama Tomosuke (永山 智介) is a Gold Midas Card Entrepreneur and one of Jennifer Satou's opponents. He has brown hair and is dressed in a long-sleeved Aloha shirt. He loses the Deal with Jennifer because of his underestimation of female Entrepreneurs.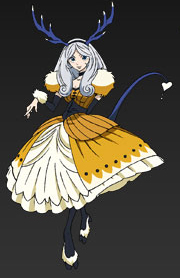 Groo is Tomosuke's
Asset
, who looks like a young woman in a golden dress with blue deer-like horns and a blue tail. Her
Flation
, "Freeze Out", covers her body with ice and transforms her hands into icicles. In business, "Freeze Out" is an action taken by a firm's majority shareholders that pressures minority holders to sell their stakes in the company.
Main article: Entrepreneur Blogs#The Melancholy of an Unemployed Intellectual
Tomosuke is one of the Entrepreneurs to have a blog on the official website. It tells about his reasons of becoming an Entrepreneur and challenging Jennifer Satou to a Deal.